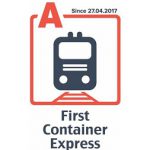 Navigator FORWARDING Company together with Freight Forwarding Company Navigator LOGISTIC start the new regular rail service for the dispatch of the containers as a part of the container block-trains from the First Container Terminal territory (Big port Saint-Petersburg) to "Freight Village Vorsino" terminal (Vorsino station of the Moscow railway) and in the opposite direction.
From the port of Saint-Petersburg in Moscow direction the First Container Express will start on April, 27 2017, and in the opposite direction the train will be dispatched on May, 2 2017. Transit time would be 38 hours. Further departures from Saint Petersburg will be carried out weekly on Thursdays, from Moscow – on Tuesdays.
Service First Container Express intended for imported customs cleared freight or freight that follow in the customs transit mode and for export and domestic freight.
For the detailed information about terms and benefits of the service First Container Express, you can get on the website www.fct-express.ru.
First Container Express is the second regular railway block-train service organized by companies Navigator FORWARDING and FFC Navigator LOGISTIC with terminals of the Global Ports group. In October 2013, companies launched regular block-train "Ust-Luga Express", plying by port of Ust-Luga – Moscow – the port of Ust-Luga route with a frequency 2 train a week.
First Container Terminal (FCT is a part of the Global Ports group) is the largest container terminal in Russia. It works on the territory of the Big port of Saint-Petersburg since 1998. FCT is one of the first specialized container terminal in Russia.
"Freight Village Vorsino" terminal (Vorsino station) is a multimodal terminal, which represents a freight village of the federal format located on the border of the New Moscow and Kaluga region, with direct access to road, rail and air cargo transport thanks to the state of the art transshipment infrastructure. FV Vorsino is a part of Industrial Park Vorsino.