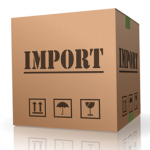 From the linguistic point of view, the phrase "customs import" is a semantic pleonasm. It is excessive, because the import is called the import of foreign goods into the territory of the country without the obligation to re-export. This means that the goods imported into Russia (in everyday life is also called "import") at the border must go through the customs clearance  "release for domestic consumption". Therefore, imports will always be "customs" and "not customs" imports, otherwise this is smuggling.
Meanwhile, this term is quite firmly in use, and many participants in foreign economic activity are looking for such service, understanding under this term customs operations on imported goods from abroad.
Our transport company provides all services for customs clearance of imports.
All customs operations are carried out by a special customs authority where the importer of goods is registered. The main operations are: registration of a goods declaration (assignment of a customs number to it), verification of cargo documentation, control of its declared customs value, collection of duties, VAT, excise and customs duties and other payments provided for by law, customs inspection and the immediate release of goods. With the last action, the customs authority allows interested persons to use the imported goods in accordance with the declared customs procedure.
For the calculation of payments that the declarant will be entitled to proceed with, the value of goods must be determined by the customs. The declared customs value is controled by customs officer. Based on the results of the verification, decisions can be made either on accepting the declared customs value, or on the need to adjust it (if there are signs of unreliability or insufficient information provided).
If the declarant refuses to change the customs value, the customs authority has the right to determine it on its own, for which it requests the importer for additional documents and information explaining the conditions for selling the goods, which influenced on the transaction price.
And if during the 10-days period from the moment of registration of the declaration, the importer does not take any action (does not change the cost, does not respond to requests, etc.), the customs authority has the right to refuse the release of goods.
In order for a product to be released for domestic consumption, in addition to the correct effecting of all payments, it is necessary that it does not fall under existing prohibitions and restrictions, that the product is in compliance with all rules of non-tariff control.
Obviously, in order to strictly comply with all customs formalities, it is necessary to be an expert in this field of activity and have extensive experience in "customs clearance" of imported goods.
Assign the delivery of the goods and required operations  "Navigator Logistics" – and you can be sure about your "customs import".