CARRIAGE OF CARGO BY SEA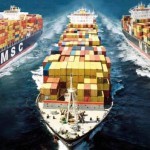 People have been using water transport to deliver goods for thousands of years – even in the law book of the Babylonian King Hammurabi (abt 1750 B.C.) there is an article that starts with the words: "If a person hired a boatman and a ship and loaded it with grain, wool, oil, dates or any other cargo … ".
Today, the World Ocean is the most powerful transport artery of the planet, and transportation by sea is one of the most common and effective ways of cargo delivery. There are cabotage (between the ports of one state) and international maritime transport. In modern conditions of globalization and internationalization of production, international maritime transport service is one of the main conditions for the stable functioning of the world economy.
Cargo transportation by sea is a rather complicated part of the modern foreign trade business. For successful work in this area you need to have an accurate idea of:
legal framework for the organization of international shipping;
features of work in the international market of sea freight;
legislative nuances of foreign economic activity and customs control;
types of marine vessels and their technical capabilities;
specifics of Russian and foreign seaports and container terminals.
Only by having all this knowledge you can choose the best from the logistics point of view cargo route: reliable, ensuring timely arrival at the destination and proper cargo security. And in case of unforeseen circumstances, the legal protection of the owner of the goods.
FREIGHT TRANSPORTATION SERVICES BY SEA
We arrange carriage of freights completing all necessary documentation in strict compliance with all legal requirements of the UN Convention on the Law of the Sea and multilateral international universal agreements (Hague and Hamburg Rules, etc.). Therefore, we guarantee our customers the reliability of carriage of freights and compensation for damage in the event of conflicts covered by international maritime law.
We will provide our clients with all required information regarding the freight market (variety, rates, price fluctuations) and work on reducing the freight. As a rule, this is possible with large volumes of goods and long-term contracts with linear carriers. "Navigator LOGISTIC" consolidates shipments of many cargo owners and has been cooperating with many well-known ferry and container lines for a long time, so the cost of transportation for our customers will be lower than the average.
We will advise you the best way to deliver your goods. Should you use a specialized vessel – a refrigerated, bulk, lighter-carrying vessel, or a universal dry-cargo vessel will suit you. We take into account differences in speed, payload, autonomy, ability to pass the Suez and Panama Canal, methods of loading and unloading, temperature and atmospheric conditions of lower holds and other parameters of sea vessels.
Transportation of containers by sea – the core area of international shipping
This is due to the fact that any – even bulk solids or liquid bulk cargo can be placed in a container, while ensuring the reliability and safety of its delivery. Standard modular containers without repacking can be reloaded on any other type of transport, providing the customer with "door to door" delivery.
Specially equipped container ships and specialized terminals in the majority ports of the world will ensure high speed of loading and unloading, saving the client time and money.
Working with "Navigator Logistics", you will obtain the optimal logistic itinerary to deliver your cargo to any place on the planet and the confidence that specialists who know the specifics and customs of sea ports and have the practice of repeated deliveries to many foreign container terminals will be in charge of your cargo delivery.